As I was sitting around one evening, I thought that devoting a special section of the website to the cars that "got away" or that I considered buying before I scored my 1964 Tempest might be interesting. Well, interesting to me, anyway. So, here goes my attempt at chronicling the handful of cars that briefly crossed my path before Timmy the Tempest…

This is a 1963 (or 64, I can't remember) Nova SS convertible I saw in Summerville, SC a few years ago. It was in good shape and was equipped with a small block shoehorned between the shock towers. 




It was definitely sweet, but out of my price range - $18K, if I recall. The rear-end styling of the car is particularly handsome. It would have looked so good in my carport…


I found this car at a lot outside of Florence, SC. It was being represented as a Super Sport, but the VIN indicated that it was a "plain Jane" Impala ragtop (No offense, Aunt Jane). The quality of the restoration wasn't very good when you got close to it.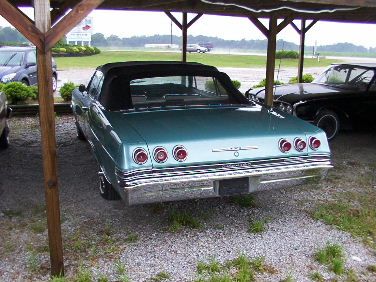 The interior wasn't completely screwed together – the console was loose and the seats needed springs. I think it had been put together quickly to cash in on the musclecar craze. No telling what was hidden under the fresh undercoating.


This Dodge Coronet 500 was found in Gray Court, SC. I was giving it fairly serious consideration for a while. The body was straight and the interior, while a bit ratty, appeared to be complete. It was equipped with a console. Some trim parts needed to be replaced, but that's about all. The owner was asking a little under $4000, if memory serves correctly. I think it would have been a good candidate, as you don't see too many of them on the road.




To the right is a Buick Centurion I found in Laurens, SC. I thought it looked pretty cool.  The wife said no. End of story.  I thought she was interested in convertibles.  Not this one, I guess.


This frightening example of a 1964 Impala was slowly dying in in the Low Country. Calling it "rust-eaten" was being kind. The owner was in way over his head with the amount of bodywork needed. The floor pans were rusted out and had been replaced with sheet metal that was riveted in. An aftermarket vendor now offers a full-length replacement floor pan that wasn't available when I looked at the car. The cost for the floor pan? A mere $1995. My first car was a 64 Bel Air, but there was no way that I would have touched this one.




Working on this one would have kept a body shop busy for a while - a long while. I don't think the owner had all of the interior parts, either. I'm sure that with enough money it could be repaired. Not my money, though.


I made a trek down to Moncks Corner, SC to look at two cars, after seeing them listed in one of the "shopper" newspapers. As I mentioned earlier, I have a soft spot for full-sized 64 Chevrolets. This one is a Biscayne that someone gave up on. As I was looking at it, I was wondering how you put a car like this back together. That was before I bought and disassembled MY project car. Now, I'm wondering about how I'll get all the parts back on the Tempest…




At least with my car, I removed all of the parts and know (sort of) where they need to go back. With this one, who knows where all of the stuff is? At least this one has its interior mostly intact.   I don't like to dwell on this one too much...it could have been nice.


I found this Falcon to be interesting, to the point of searching the web to check on the availability of restoration parts. I t was a 6-cylinder car (currently holding a late-model 6 under the hood) that appeared to be in pretty good shape. It needed door panels and probably a new windshield and gasket, along with some body work.  The car is a unibody and has some rust that concerned me. Not being familiar with that type of construction, I thought it best to pass on it, as I was not sure at them time if the rust I found affected the structural integrity. Still, the car was interesting.  As with the Coronet, you don't see many of them on the road. Now, if it had been a Falcon Sprint…




My oldest son went with me that day – under duress. He didn't see the potential in the car.


I don't want to leave out a significant "family car" from this edition! The car (if I was to get it, of course) would be reverently known as "Uncle Johnny," as it is currently under the watchful care of, you guessed it, Uncle Johnny. Actually, he's my wife's uncle, but he lets me claim him as family. The car is a 1962 Bel Air, currently residing in a classified location. It has been repainted, at least once and has what appears to be stylish shag carpet covering the floorboards of its expansive interior.




The interior needs a good deal of work and the tinworm is taking a toll on the body, but it still has that certain charm only a early 60's Chevy has. The car is promised to my wife's cousin, whom I don't think is much of a car nut, so there's still hope. Ah, the thought of motoring down the turnpike in this behemoth. That brings back fond memories of my first car, a 1964 Chevy Bel Air. Sounds like destiny, to me. Did I mention that Uncle Johnny is the original owner? I feel very, very confident that he's never raced it or lit the tires in a massive burnout. Well, even if he wanted to smoke the tires, the 283 2-barrel under the hood wouldn't cooperate. Never did in my old Chevy, despite my best efforts to impress my friends. Ah, the joys of adolescence.

While on the subject of family vehicles, here's a picture of the truck owned by my wife's grandfather.  It has been sitting in this spot for countless years.

                                                      



Now, for the one that really got away. One of the first cars to appear on my radar screen was a 1967 Galaxie 500 convertible. The car is owned by the friend of a co-worker and was in good overall condition. The owner needed money and was willing to part with the car for $2500, which I thought was a fair price. While my wife wasn't wild about the car, the convertible factor was able to win her over. I drove to Newberry, SC to look at the car and was quite pleased with what I saw. It still had the original interior and only needed cosmetic work to get it back on the road again. This car was close to the classic "found in a barn car," as it had been under a shed for the past five years.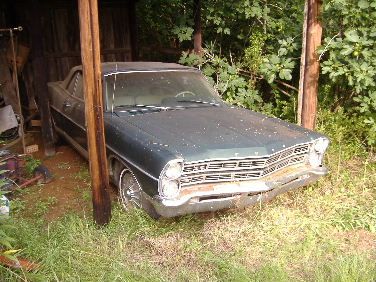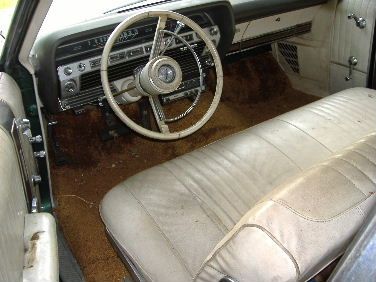 I was pretty excited about getting the car. I spent hours on the internet researching parts availability, ordered several Ford restoration catalogs, etc. only to have the rug pulled out from under me less than 24 hours before I was going to pick it up! The owner's husband was able to sell his tractor, and her financial crisis was averted. Actually, she had owned the car since she was in high school and didn't really want to part with it, anyway. That's what I get for trying to buy a non-GM product. I should have listened to my inner General.

Needless to say, this setback put me in a supreme snit for about two weeks (or longer, depending on whom you ask). After repeated scolding and threats by my wife, I was able to pull myself out of the dark abyss into which I had fallen. I'm still aggravated about the whole affair, though.

Well, that's the story of the cars that almost entered my life. No time to look back, as I have a 1964 Tempest Custom sitting in my carport now!