The picture below is my car (on the right) parked next to my grandparents' Impala.  I really wanted their car, but they weren't ready to give up the keys, so they bought mine from a little old lady that lived two houses up from them.  She never drove it like I did...

This is one of the Toyota Corolla coupes that my brother owned back when he was a young lad.  Actually, Dad owned them, and he drove them.  Drove the snot out of both, actually.  He was taking this car through the twisties near Black Mountain, NC when it developed what they call in NASCAR a bit of a "push."  Unfortunately, a truck was coming in the opposite direction and they met.  That's what you get when you are rushing to the library to study.  He vowed not to ever let that happen again.  Studying, that is.
My brother scolded me over the Thanksgiving holiday for posting a picture of his wrecked car.  Here's the unmolested version.  he also had a copy of the classified ad.  The asking price was $1995 and it had fewer than 40k on the odometer.  He made up for the low miles with spirited driving.
Here's my first project vehicle, a dilapidated old F-150 I talked my former employer out of years ago.  It was in Charleston, SC and at one time was the yard truck for the truck stop owned by the company.  It was all but abandoned and I think some homeless person was sleeping in it every night.  To break it in properly on its first night at my house, my brother and I split a bottle of Mad Dog while sitting in it, in honor of its previous occupants.  There's nothing like cheap wine to christen a new project.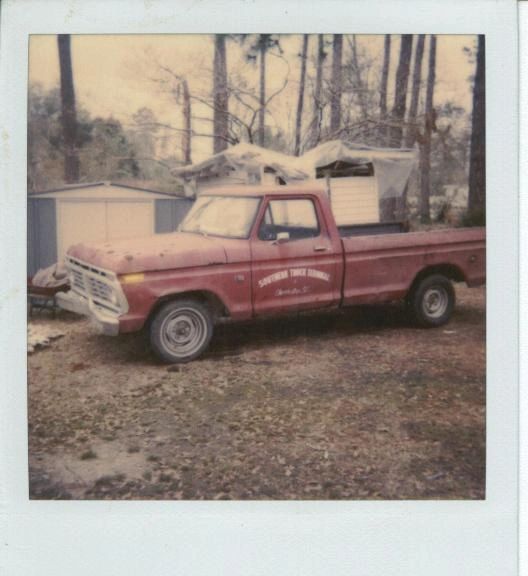 It didn't (or wouldn't) run, so I paid the local wrecker company 75 bills to drag it home.  It was an ill-fated project to begin with.  I didn't have anywhere to work on it, other than in the yard, I had no idea what I was doing and I had no money.  The perfect recipe for a disaster, actually.  Fortunately, we were able to trade it and a 74 Toyota sedan in on a Bronco, so the wife was happy.  I'm really fortunate that she's an understanding woman, because the memory of this fiasco didn't keep her from letting me take on my current project.  Well, there was about a 15-year gap between the truck and the Pontiac, so perhaps time DOES heal all wounds.